At the start of the spring cleaning season, most of us leap at the chance to clear out our closets, donate unused items, and scrub down those overlooked areas of our homes. But for me, nothing inspires a refresh quite like the coziness of fall. With the chillier temps, we retreat to the warmth of the indoors and curate a touch of hygge at every turn. During these months, we spend more time than ever inside. So why not make it a relaxing and inspiring space to be? Thankfully, Shira Gill has endless tips when it comes to designing an organized home and life.
So many tips, in fact, that she centered her latest book, Organized Living, on this very topic. It's a personal and intimate deep dive into the world of professional organizers. (One that we have many assumptions about, but know little of.) The interviews, organizing secrets, and 250 pages of visual inspiration are compiled to help you organize a home that supports the rhythms and rituals of your life best. It's clear that following the success of her debut book, Minimalista, Shira Gill is back—with more inspiration than ever to share.
Shira Gill's Top Organizing Tips
If you've ever found yourself overwhelmed at the thought of organizing, you're not alone. It's a truth that Shira knows well—and a narrative she's trying to change. Rather than leaving the feelings of satisfaction and calm until the final result is reached, she believes that every part of the process can be an opportunity for self-care.
Getting organized, as we've learned from the expert in the past, requires a shift in mindset and an overhaul of our habits. Creating the organized home of your dreams isn't solely about the stuff. Instead, it asks us to approach our spaces with purpose—asking how our homes can be not simply an extension of our lives, but a center point upon which we build our days with intention.
We sat down with Shira to learn more about her latest book and the routines she prioritizes to design an organized home. Be sure to read until the end, where Shira shares an exclusive excerpt detailing the nine habits every professional organizer prioritizes.
What does an organized home feel and look like for you?
My method of home organizing is about setting up a home that supports your goals and values and cutting the clutter, excess, and distraction that stand in the way. 
I believe an organized home is less about achieving a prescribed aesthetic (you do you!), and more about creating more spaciousness, ease, and joy in your life. It's about owning only things you love, use, and value, and having a designated place for each thing. You'll know you've nailed it when you can find what you need in an instant and spend more time pursuing the things you love and enjoy, and less time sorting through the piles.
I wrote Organized Living to promote my belief that organizing can (and should) look different for everyone. There is no one-size-fits-all way of organizing or being organized, and I knew it would be illuminating to go behind the scenes and showcase the actual homes of my colleagues from around the world – ranging from minimalists to maximalists, zero-wasters, nomads, and everything in between. By featuring 25 organizers, sharing their home tours, and highlighting their tips, tools, and ideas, my intention is both to inspire people to make positive changes in their homes and lives, and to show that not only are there many different paths to get there, but many different versions of what there looks like.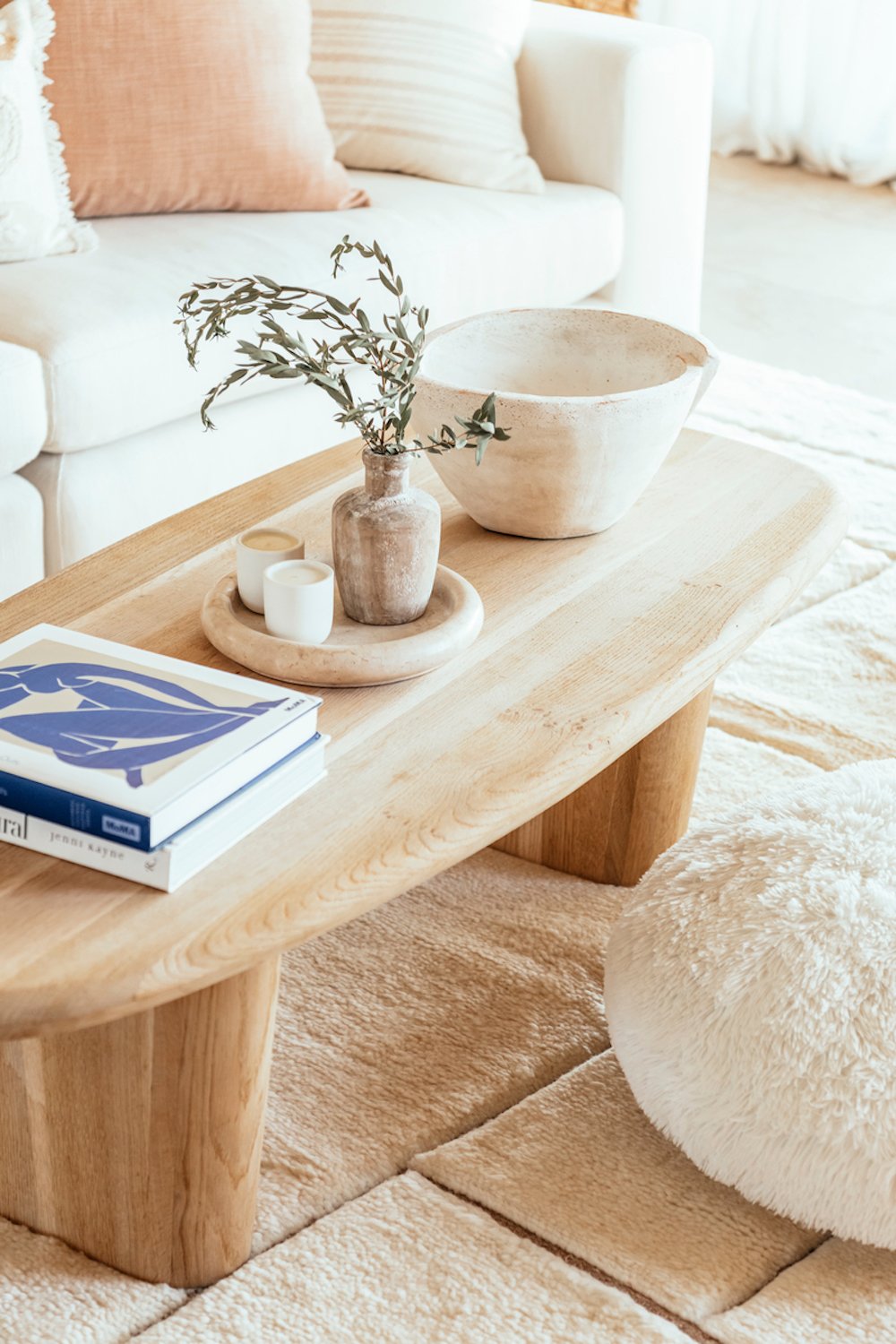 What routines do you maintain throughout the week to stay tidy and organized?
The number one thing I do to maintain a streamlined and organized home is to stop clutter at the front door. This means being as intentional as possible about the things I purchase and reminding myself that anything I buy will be my responsibility to care for, clean, maintain, organize, and eventually dispose of. I always ask myself "is it worth it?" before pulling the trigger on buying a new item for my home, life, or wardrobe.
In addition to managing volume, I integrate simple practices into my day to ensure things stay tidy with minimal effort:
Put things away right away when I get home. (Bag on hook, shoes in shoe bin, mail in basket.)
Commit to a five-minute tidy before bed to reset the space. This means wiping down counters and tabletops and relocating any household items that have lost their way. 
Getting shop returns, donations, and borrowed items out the door ASAP! 
Recycling junk mail and cardboard boxes from packages immediately.
My teens are tasked with washing and putting away dishes right after dinner so we wake up to a clean kitchen. 
Laundry every Sunday. (Everyone folds and puts away their own load.)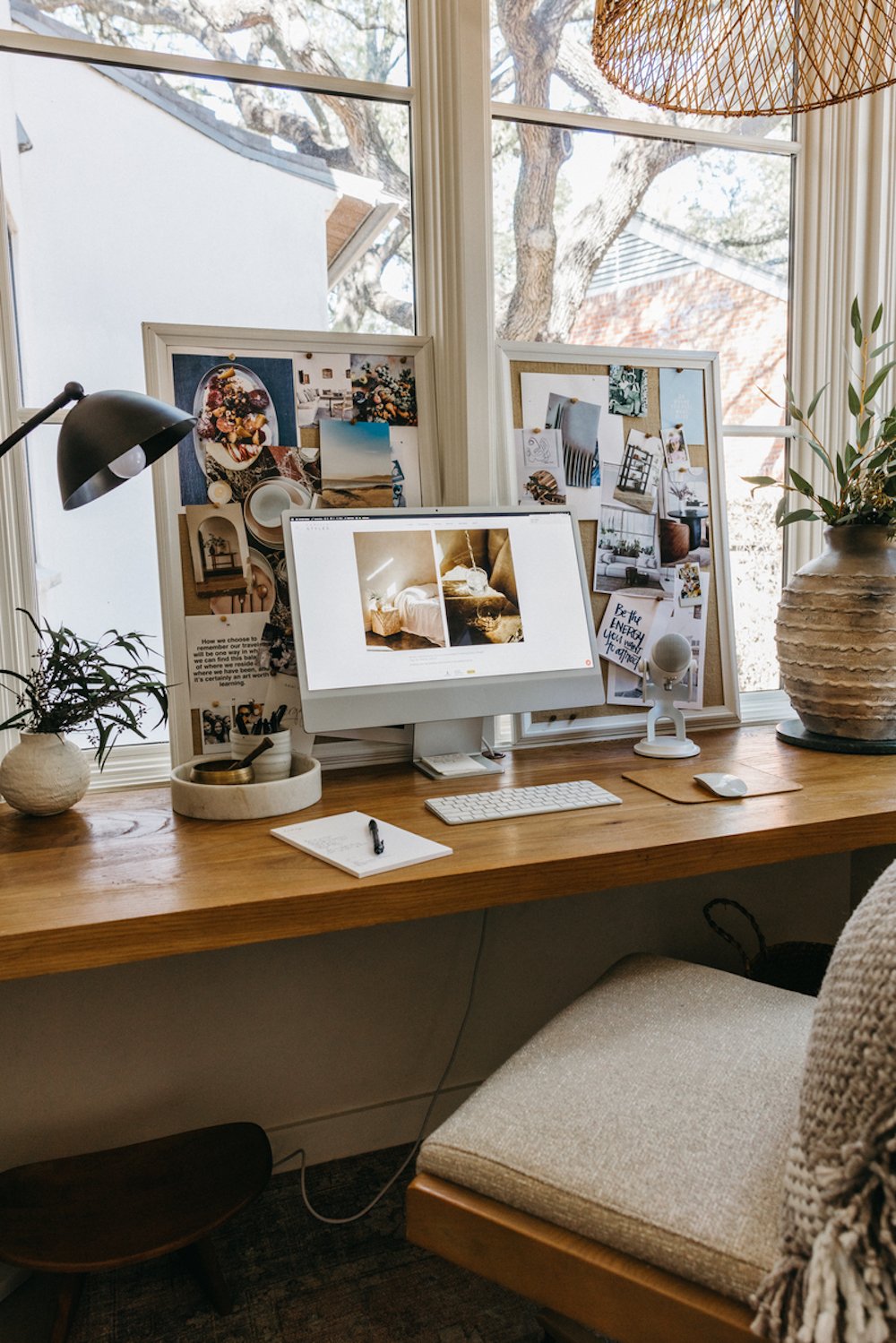 What's the hardest area of your home to keep organized—and how do you do it?
I share a 100-year-old bungalow with my family of four, and we share one tiny bathroom with minimal storage (who's jealous!). Since storage is at a premium, we reserve the two small bathroom drawers for daily-use items like toothbrushes, toothpaste, face wash, and floss and share a single bodywash, shampoo, and conditioner.
I've set up drawer organizers to create clear boundaries within each drawer, so each family member has a (tiny) clearly designated zone for their personal care items. Since we have almost zero storage in our shared bathroom, my teenage girls and I store our makeup, toiletries, and products that don't fit into the bathroom in our bedrooms. It's a real challenge, but we're making it work! 
If someone wants an organized home but is feeling overwhelmed, where should they start?
Great news: there is no need to take off weeks of work or halt your life to organize your home and life. I created a tool for my clients who feel overwhelmed called the 15-minute win. Just pick any bite-sized project, set a timer for 15 minutes, roll up your sleeves, and go! It's best to start with something small like decluttering your junk drawer, clearing off a countertop, or just getting all the trash and receipts out of your daily handbag.
Tiny, incremental changes help create momentum and the confidence to keep plugging away. Little by little adds up to a lot, and the key is just to get started.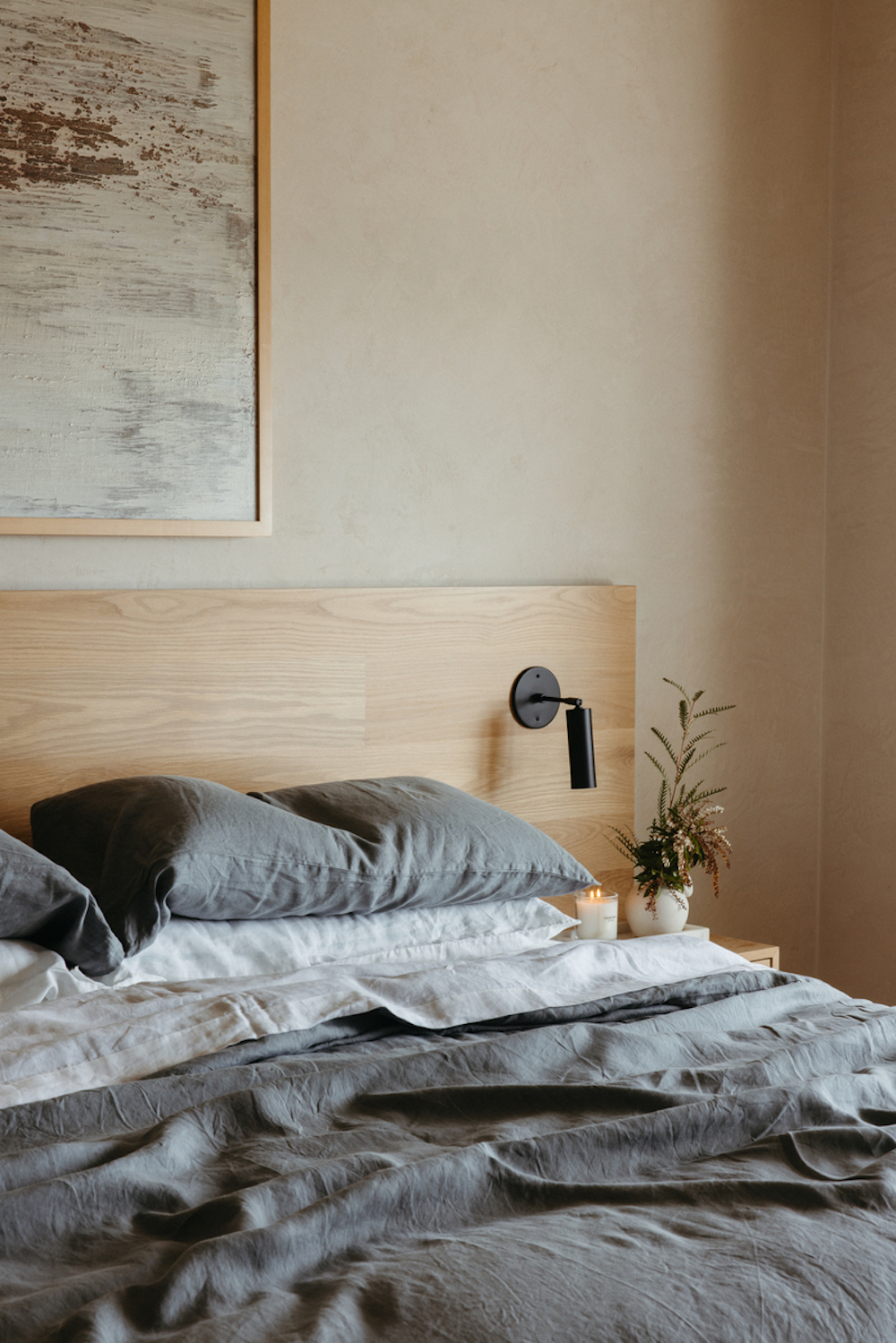 We have to imagine you're not only organized in your home but in your everyday life. What tools or strategies do you use to keep it all running smoothly?
Yes! I apply the same toolkit I use for home organizing to keep my life and career running smoothly. My overall philosophy is anchored in minimalism. Clarify what's most important and cut the clutter and distraction that stands in the way. In my life, this translates into focusing on one big goal at a time and paring way back on other plans and activities. 
I typically have a singular goal for the year (i.e., write a book) and I also like to have smaller goals for each season, both personal and professional. To keep it all in order, I make sure my goals are specific and measurable. Then, I work backwards from the result I want to plan and schedule each necessary step to get there. I schedule research time, phone calls, and focused work time. Everything goes in my Google calendar—social plans, workouts, even things like "buy milk" or "drop of donations."
My biggest life hack is spending five minutes before bed mapping out the day ahead. I like to jot down all meetings, plans, and to-dos on an index card which I can pop in my bag and use as a "cheat sheet" for my day so nothing gets lost in the shuffle!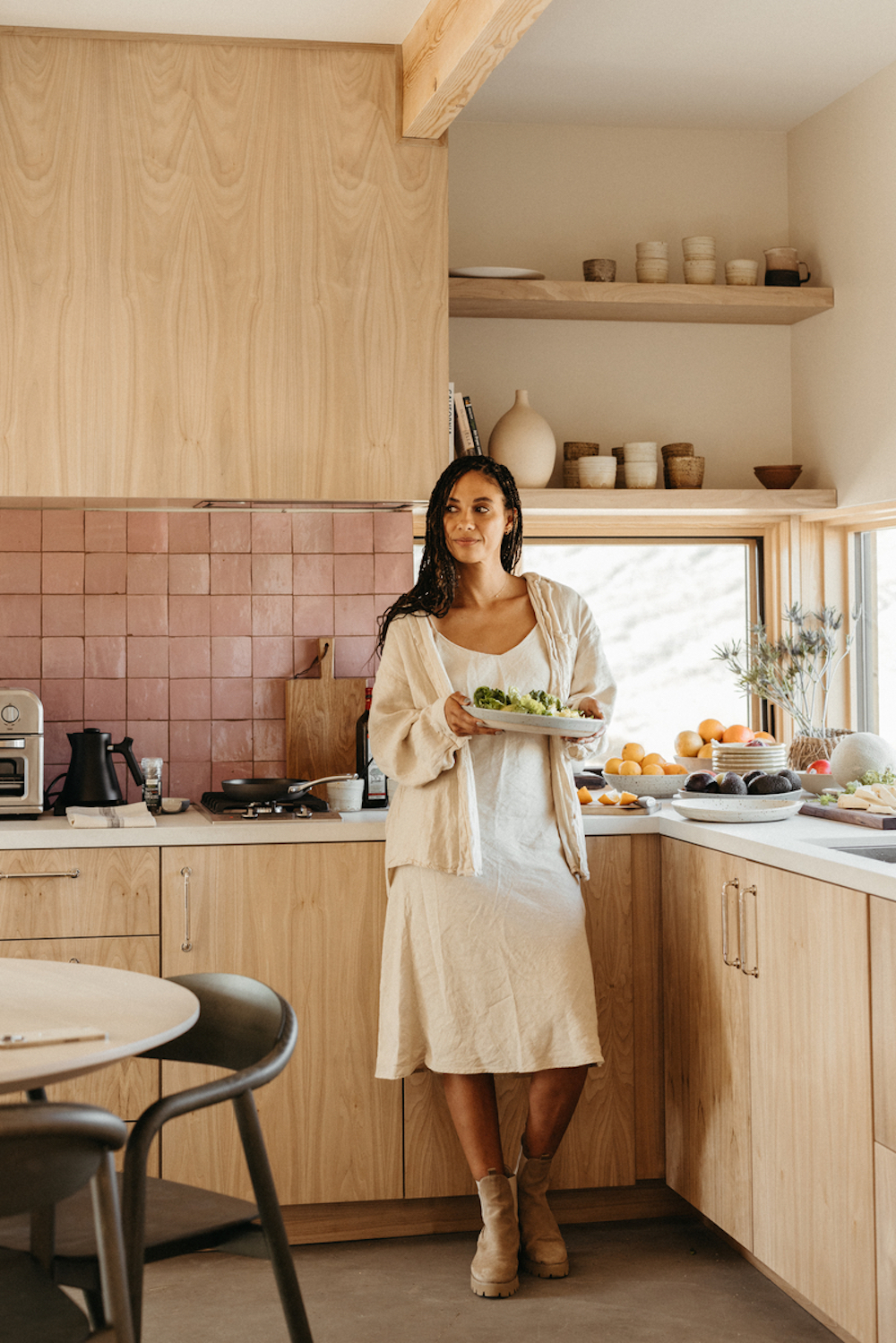 Things Organizers Do
Excerpted from Organized Living, by Shira Gill.
Across the board, there were many overlaps in the habits, practices, and philosophies of the professional organizers I interviewed for this book. Read on for a roundup of easy, actionable tips you can employ to organize your home like a pro.
Own Fewer Linens
One of the things that shocked me the most was how minimal most organizers are when it comes to the quantity of linens they own. We're talking one to two sets per bed max. Owning less means less to launder, fold, and store. If you're short on storage space, this is a major victory. Ditto for the towels. Toss 'em. And by "toss," I mean keep your favorites and donate the rest to your local animal shelter or textile recycling center.
Ditch the Packaging
Fast track to making your home look like it was touched by a professional organizer? Ditch the packaging! Get that toilet paper out of its plastic wrap. Remove printer ink from its cardboard packaging. Shop the bulk bins, and pour pantry staples into airtight glass jars. Less is always more when it comes to plastic and cardboard packaging.
Make It a Station
If there's one thing that is guaranteed to make an organizer giddy, it's centralizing frequently used items into a dedicated zone or "station." Think breakfast station, smoothie station, pet station, homework station, work-from-home station—the possibilities are endless
Move It, Shake It
Organizers love to get creative when it comes to redesigning spaces: moving furniture around; repurposing bookshelves, dressers, or credenzas; adding, subtracting, or adjusting shelves; installing wall-mounted or over-the-door solutions. Customize your space to fit your needs.
The Display and Conceal Rule
Organizers love to display items that are lovely to look at, like vases, ceramics, framed photos, plants, and art, on open shelves. We love to conceal utilitarian items, like charging cords, tools, house paint, vitamins, and first-aid supplies, in bins, drawers, or deep storage.
Stylish Storage
Whether repurposing or sourcing new products, the pros like to be highly intentional when it comes to storage vessels. Choose bins, baskets, boxes, and organizers that create a cohesive aesthetic throughout your home and reflect your personal taste and style preferences.
Shop Your Home First
Most pros like to "shop" their client's homes before hitting the stores. Most people have an assortment of bins, baskets, boxes, pouches, and other vessels that can be repurposed for all sorts of organizing and storage needs. If you do need to fill in some gaps, make sure to shop with a specific list and a plan (note quantities and measurements) before you hit the shops.
Elevate the Most Neglected Spaces
It's easy to overlook styling in the tucked away areas of your home, like your linen closet or laundry room, but pro organizers take great pride in sprucing up the hidden spaces behind closed doors. Elevate your own utilitarian spaces by adding plants, art, textiles, stick-on patterned wallpaper, or even just a coat of fresh paint. Organizers also love styling closets with design books, candles, and pretty objects found elsewhere in the home. Get creative and give the spaces behind closed doors a little love.
Put Things Away, Right Away
If there's one habit all organizers can agree on, it's simply to make it a routine to put things back after use to prevent a massive pileup (and headache) later. A five-minute tidy before bed is another common practice of the pros.
Respect the Physical Boundaries of Your Space
As Ryan from Home + Sort says, "Don't shop for a mansion if you live in a cottage." Organizers like to embrace and celebrate the space they have.
"Reprinted with permission from Organized Living: Solutions and Inspiration for Your Home by Shira Gill, copyright © 2023. Published by Ten Speed Press, an imprint of Penguin Random House."