I'm writing to you from a cozy, rainy Boston. Seemingly overnight, the weather has shifted from sunny and blazing hot to me pulling my sweater tighter around my shoulders. Iced coffees have made way for PSLs and my taste buds have made the seasonal transition from key lime pie to pumpkin. (That's right, I'm ready.) All of these indicators—alongside Gilmore Girls playing in the background at all times—represent not only the fall chill setting in, but a desire to embrace a cozy fall aesthetic. Truly, what better way to celebrate my favorite season than with comfort and coziness at every turn?
To hype myself up all the more for fall, I polled Camille Styles editors for their favorite cozy fall aesthetic essentials. Candles, robes, comfy slippers, and mugs all made the cut. And of course, we couldn't kick off a list of our favorites without the go-to fall recipes we'll be serving up all season long.
Featured image by Michelle Nash.
Our Favorite Cozy Recipes
Tell me you feel it too: pumpkin, cinnamon, and maple-flavored everything is synonymous with the autumnal turn. Rather than picnicking on the weekends or meeting up with girlfriends at the city's best patios, I'm spending my Saturdays in, puttering around in a thick pair of socks with soup on the stove and pumpkin cookies in the oven. Is there anything more ideal? It's hard to say, but if you're looking to celebrate the coziness as well, it's time to make my three favorite fall recipes, stat.
Curcuma Golden Milk
Why We Love It: For when you want to replace your coffee or tea with something a little creamier and indulgent—while still getting all the nutrition-boosting benefits of a superfood—golden milk is the answer. Beyond taste alone, there's something so lovely about developing a tea ritual for yourself. Starting your day with something warming and cozy, ideally poured into your favorite mug, is a grounding way to start your morning with slowness, presence, and intention. And if you weave a healing Ayurvedic elixir like golden milk into the mix, all the better.
Hero Ingredient: Turmeric is the key ingredient in golden milk, giving the drink its signature, sunshine hue. Be sure to pair it with a grind of black pepper and a fat like MCT or coconut oil for better absorption.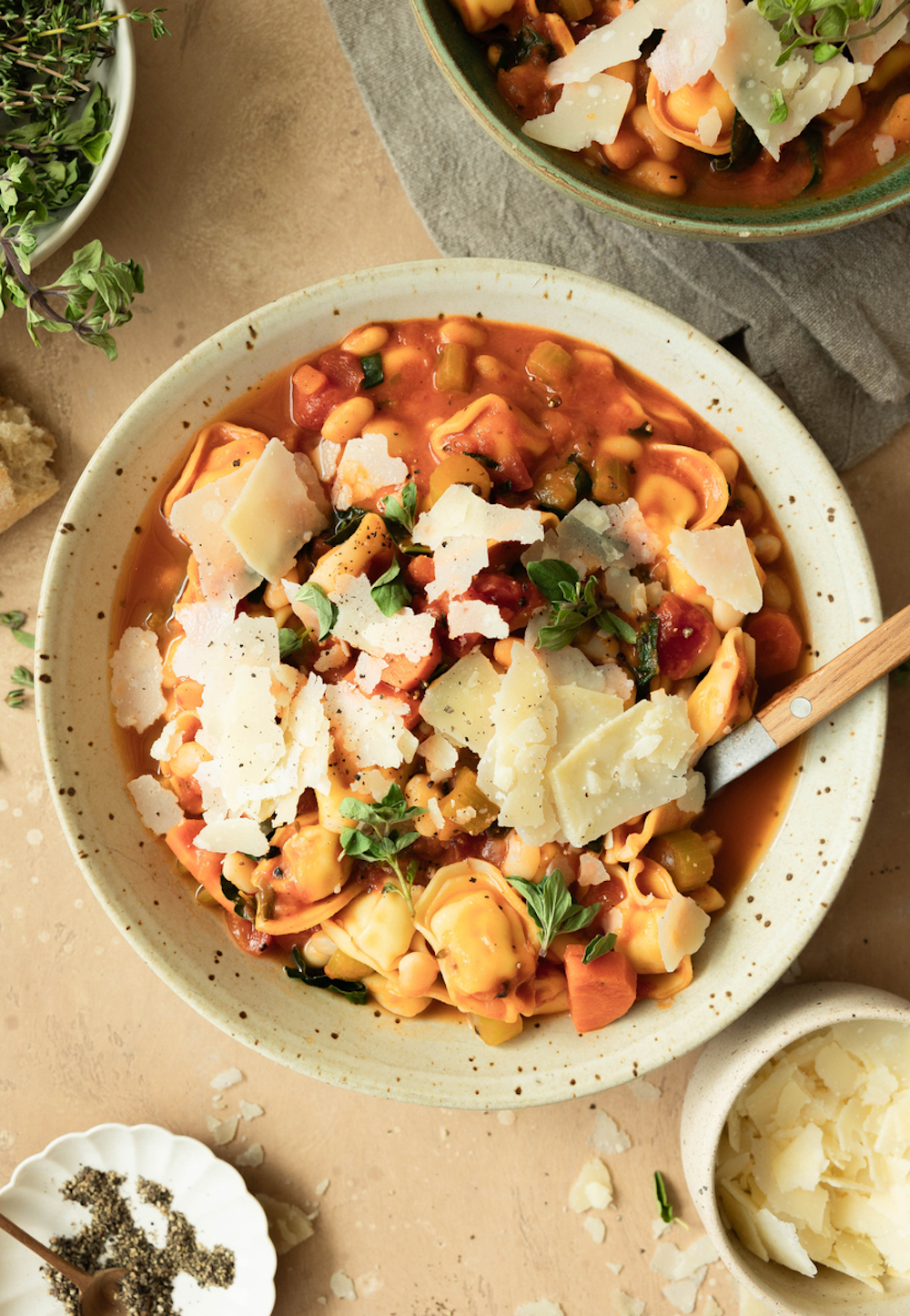 Tortellini Soup
Why We Love It: It's not fall without a favorite soup in your cozy-comfy arsenal. Number one on my fall bucket list is making at least one soup a week throughout the season. (If you need inspiration, consult our roundup of our must-make fall soup recipes.) This soup is full of rich, creamy flavor and is an easy weeknight meal that practically makes itself in the pot.
Hero Ingredient: For those who don't think soup can serve as a full meal, you'll enjoy the hearty, chunky addition of tortellini stirred in.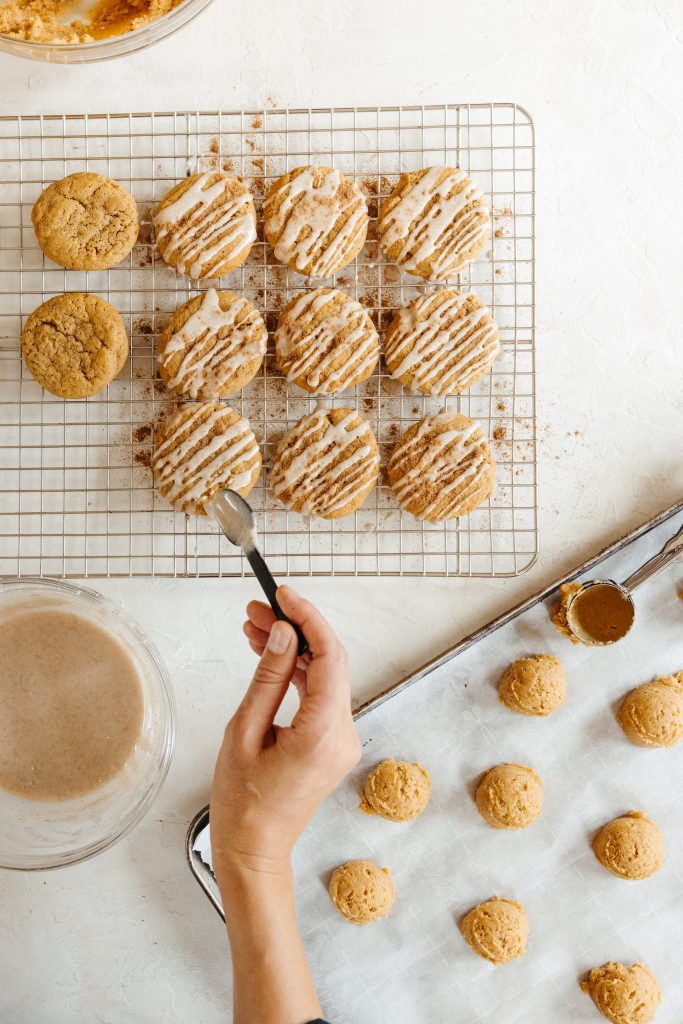 Chewy Pumpkin Spice Cookies with Cinnamon Glaze
Why We Love It: My favorite way to seal the deal on a cozy fall aesthetic. Nothing makes me happier than a cup of warm tea served alongside a chewy, cinnamon-laced pumpkin cookie. And for those who are perhaps hesitant to enjoy anything pumpkin-spiked before October, trust: these are the perfect blend of spicy, sweet, and just pumpkin-y enough. A PSL in cookie form (minus the not-so-ideal additives)? Sign me up.
Hero Ingredient: A drizzle of cinnamon glaze on every cookie once they finish cooling isn't just aesthetic—it's the perfect flavor boost to these little delights.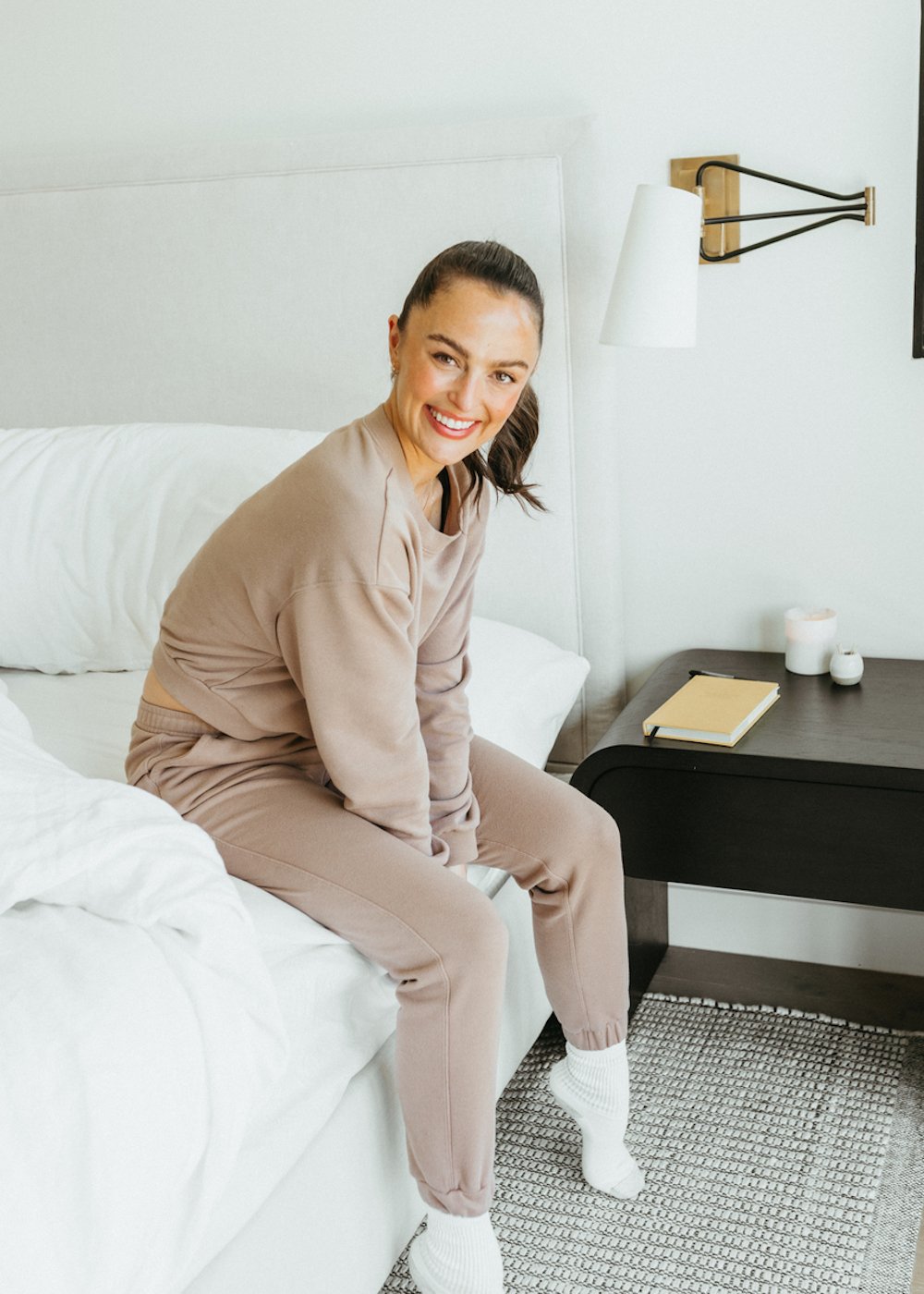 Our Editors' Favorite Fall Essentials
Ever since the calendar struck September, I've been shopping online for all the fall goodies. (But let's be real, I started stocking my favorite fall candles halfway through the summer.) Because I'm not the biggest fan of Halloween décor, I instead prioritize an ethos of comfort and a cozy fall aesthetic until it's time to put up my Christmas tree.
So if you're ready to get snuggled up in earnest, keep reading. Ahead, our editors share everything they need to build a cozy fall aesthetic all throughout the season. (And honestly, beyond.) We're supplying you with all the inspiration to help you create your own.
Every product is curated with care by our editors and we'll always give an honest opinion, whether gifted or purchased ourselves. If you buy something through our links, we may earn a small commission at no cost to you.
Lumira Cuban Tobacco Candle
Sure, like everyone, I love a good pumpkin-scented candle once September hits. But in recent years, I've expanded my home scentscape to include the unexpected, sophisticated scents of the season. I love the notes of cardamom and cloves that blend with tangerine, tobacco, and mahogany. Thanks to this candle, my home smells like a library, my favorite coffee shop, and like I have a fresh batch of muffins emerging from the oven—all at once. — Isabelle, Managing Editor
Diaspora Co. Chai Masala
Everyone knows I'm a chai obsessive, and Diaspora Co.'s Chai Masala takes my chai game to the next level. I already use their whole spices when I make a batch of chai from scratch, but this ready-to-go spice blend makes it even easier and quicker to get a flavorful cup of chai in my hands. — Suruchi, Food Editor
Casaluna™ Chunky Knit Blanket
Everyone needs a CKB (chunky knit blanket) in their lives come fall. Camille introduced me to this one and it is my family's most prized possession. It's huge so we can all fit underneath for movie nights—or I can thoroughly snuggle up for reading binges. — Brittany, Content Marketing Director
Casa Zuma Solstice Mug
Though my mug collection is ever-expanding, I'll confirm: this is my forever favorite. The speckled, earthen appeal lends character to its minimalist aesthetic. Every time I pour a hot cup of coffee or brew an Earl Grey, I wrap my hands around it and inhale the true sense of hygge. — Isabelle, Managing Editor
Threshold™ Rustic Palo Santo Candle
While candles can cost you an arm and a leg, this rustic-scented pick is not only affordable but looks beautiful placed in any corner of my home. I love lighting it first thing during my morning journal sesh. It's the perfect way to begin the day — Camille, Editor-in-Chief
MATE The Label Organic Oversized Sweatshirt
A fall wardrobe isn't complete without a buttery soft, oversized sweatshirt. This supremely comfortable pullover is perfect for lounging, school drop-off, running errands, and everything in between. Bonus points—MATE's clothing is made with organic cotton and they're a Climate Neutral certified brand. — Edie, Wellness Contributor
Otherland Dappled Wood Candle
I've been burning this candle non-stop since the first of September. It's the perfect, slightly sweet but warming scent for cozy blanket reading sessions this season. — Suruchi, Food Editor
Sijo LuxeWeave Linen Sheet Set
Maybe I'm in the minority, but I love making my bed in the fall with a mix of linens and warmer layers, like flannel. As a hot (sweaty) sleeper, I like to keep these cooling, breathable sheets in the mix. They're functional and super soft—as all the best, cozy fall items should be. — Isabelle, Managing Editor
UGG Coquette Slipper
Call me basic but nothing says fall like UGGs. Now I'm not the type of girly who leaves her house in UGGs (no judgment if you are, remember I live in LA), but I look forward to the first crisp morning I can bust out my UGG Coquette slippers. These are always a hit as a gift as well. — Brandy, Motherhood Editor
Trader Joe's Vanilla Pumpkin Candle
This candle is the ultimate fall scent to fill your cozy space. It's sweet, yet subtle (not a very in-your-face pumpkin spice scent). I look forward to finding this candle, along with all of the other great fall products, every year at TJ's. — Casey, Editorial Intern
Varley Vine Half Zip Sweater
For me, a cozy fall aesthetic means elevated loungewear as my go-to, everyday uniform. I love that this sweater is comfortable without feeling frumpy. The quarter-zip style is not only chic and flattering, but it adds a little character to an otherwise unassuming fit. — Camille, Editor-in-Chief
Threshold™ Boucle Sphere Throw Pillow
One of my favorite ways to update my home for fall is switching out my throw pillows and blankets with seasonally appropriate picks. While the summer saw me gravitating toward lighter, more organic textures, a cozy fall aesthetic means I'm leaning into everything soft, fluffy, and boucle. Yes, for me, the trend is still going strong. — Camille, Editor-in-Chief
Too Collective Too Cozy Robe
I've never been a bathrobe girl. They always seemed too bulky and inconvenient. A hoodie was enough for me! But after living in my hotel bathrobe during a recent trip, I came home transformed and determined to find a bathrobe that would make me feel like I was on vacation every day. Luckily, Too Collective had already done the research for me. Their founder beta-tested all the best hotel robes and created one that surpasses them all.
The biggest game changer: it has adjustable sleeves. That way, they don't get wet while you do your skincare routine (which, as a beauty editor, is key) or wash your hands. I'll be gifting it to everyone I know this holiday season. — Langa, Beauty Editor
Simple Mills Pumpkin Muffin Mix
While I tend to feel inundated by the pumpkin-flavored everything that pops up at the beginning of September, I'll buy into the hype for one of these pumpkin muffins. I always have this baking mix at the ready when temps drop, and baking during my free time is one of my favorite ways to welcome fall. Plus, the smell of these muffins is so intoxicating you won't even need to light a fall candle. (Though, you're totally welcome to all the same.) — Michelle, Executive Producer
Casa Zuma Playa Pasta Bowl
For me, a cozy fall aesthetic means I'm eating all the pasta, hearty salads, and soups my stomach can take. So of course, I'm leaning toward bowls that serve my dietary choices best this season. This glazed stoneware bowl is the perfect size for a large helping of whatever I'm craving. — Isabelle, Managing Editor